Hello there,
I'm trying to install Netrunner on my Tuxedo laptop with Intel Comet Lake chipset.
This is the hardware as reported when booting it with a Manjaro live usb:
[manjaro@manjaro ~]$ inxi -Fxzc0
System:
  Host: manjaro Kernel: 5.4.2-1-MANJARO x86_64 bits: 64 compiler: gcc 
  v: 9.2.0 Desktop: KDE Plasma 5.17.4 Distro: Manjaro Linux 
Machine:
  Type: Laptop System: TUXEDO product: TUXEDO v: N/A serial: <filter> 
  Mobo: TUXEDO model: N141CU serial: <filter> UEFI: INSYDE v: 1.07.04 
  date: 08/30/2019 
Battery:
  ID-1: BAT0 charge: 36.6 Wh condition: 36.9/35.3 Wh (105%) 
  model: Notebook BAT status: Charging 
CPU:
  Topology: Quad Core model: Intel Core i7-10510U bits: 64 type: MT MCP 
  arch: Kaby Lake rev: C L2 cache: 8192 KiB 
  flags: avx avx2 lm nx pae sse sse2 sse3 sse4_1 sse4_2 ssse3 vmx 
  bogomips: 36812 
  Speed: 3602 MHz min/max: 400/4900 MHz Core speeds (MHz): 1: 3598 
  2: 3601 3: 3595 4: 3604 5: 3578 6: 3600 7: 3606 8: 3600 
Graphics:
  Device-1: Intel vendor: CLEVO/KAPOK driver: i915 v: kernel 
  bus ID: 00:02.0 
  Display: x11 server: X.Org 1.20.6 driver: intel unloaded: modesetting 
  resolution: 1920x1080~60Hz 
  OpenGL: renderer: Mesa DRI Intel UHD Graphics (Comet Lake 3x8 GT2) 
  v: 4.5 Mesa 19.2.7 direct render: Yes 
Audio:
  Device-1: Intel vendor: CLEVO/KAPOK driver: snd_hda_intel v: kernel 
  bus ID: 00:1f.3 
  Sound Server: ALSA v: k5.4.2-1-MANJARO 
Network:
  Device-1: Realtek RTL8111/8168/8411 PCI Express Gigabit Ethernet 
  vendor: CLEVO/KAPOK driver: r8169 v: kernel port: 5000 bus ID: 3b:00.1 
  IF: enp59s0f1 state: down mac: <filter> 
  Device-2: Intel Wireless-AC 9260 driver: iwlwifi v: kernel port: 5000 
  bus ID: 40:00.0 
  IF: wlp64s0 state: down mac: <filter> 
Drives:
  Local Storage: total: 972.54 GiB used: 101.0 MiB (0.0%) 
  ID-1: /dev/nvme0n1 vendor: Intel model: SSDPEKNW010T8 size: 953.87 GiB 
  ID-2: /dev/sda type: USB model: General USB Flash Disk size: 14.92 GiB 
  ID-3: /dev/sdb type: USB vendor: PNY model: USB 2.0 FD size: 3.75 GiB 
Partition:
  ID-1: / size: 23.30 GiB used: 101.0 MiB (0.4%) fs: overlay 
  source: ERR-102 
Sensors:
  System Temperatures: cpu: 65.0 C mobo: N/A 
  Fan Speeds (RPM): N/A 
Info:
  Processes: 233 Uptime: N/A Memory: 31.07 GiB used: 672.4 MiB (2.1%) 
  Init: systemd Compilers: gcc: 9.2.0 Shell: bash v: 5.0.11 inxi: 3.0.37 

If I try to boot it with the current Netrunner 20 from live usb, I only get to the command line, it looks like this: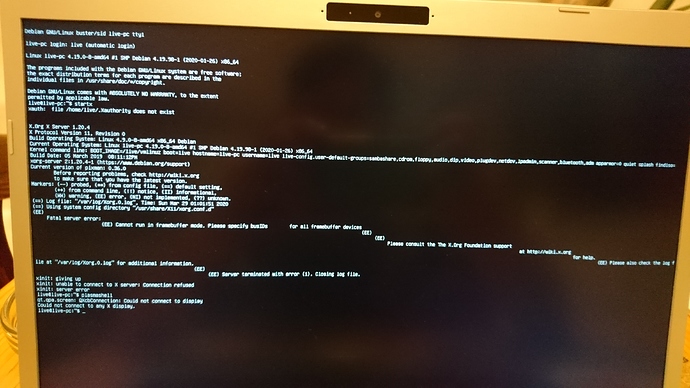 As you can see, starting X.org manually was unsuccessful.
I also tried the fix of adding the "vga=normal nomodeset" kernel parameter proposed in installation instructions, but it's not working.
First I thought the installation media was maybe broken, but I tried it on my desktop pc and eveything's fine there. As you can see in this thread on the Manjaro forum, Manjaro won't run properly on this system either - I've only been successful with a Kubuntu version provided by the OEM so far.